1. Qamar
Qamar is now aged 34 years, a Pakistani Muslim who was born here and whose parents had emigrated here 50 years ago. His marriage was arranged but he lives very happily with his wife and their 5 children. Although living out of the area, he considers Holy Trinity to be "home" as so many of his relatives and friends live in the area.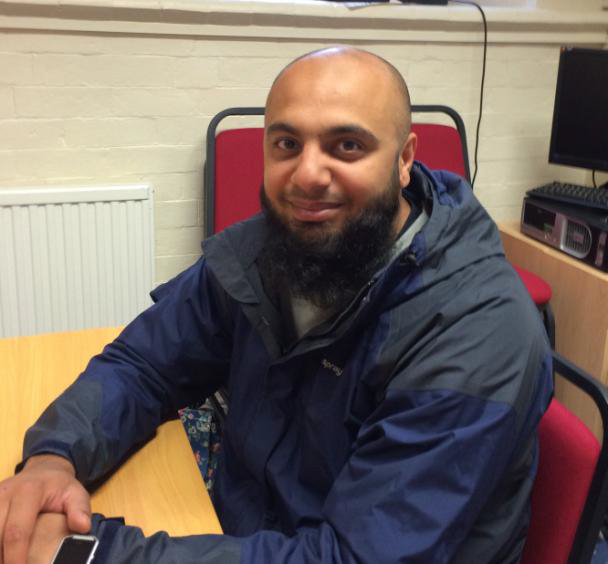 Qamar volunteered that as a teenager, he was one of the "youths causing annoyance" in the area and indeed was on the edge of criminal activity, with a group of his friends subsequently being charged and imprisoned for drugs related offences. The turning point in Qamar's life was when he became a father for the first time, having married at the age of 18 years and for 9 years he worked long hours in a takeaway for £35 per night in order to provide for his growing family.
About 10 years ago, Qamar was asked by Carl Kelsall (SPY leader and now Community Development Worker at HTCCC) to be a steward at a community event. Qamar already knew about the SPY project because his younger siblings were involved in it and he felt an immediate rapport with the young people attending the event. As a fitness fanatic himself (he was into weight lifting and boxing), he liked what was being done out of the Centre in terms of the physical activities on offer and therefore accepted Carl's invitation to become a volunteer on the project with the opportunity of qualifying in sport and youth work. He was trained as a coach in climbing and obtained a Climbing Wall Award as well as an NVQ Level 3 in Youth and Community Development. In order to facilitate his volunteering and training, Qamar changed his job and became a taxi driver and was eventually employed as a casual worker by SPY which was able to offer him 16 hours paid work each week.
When casual work was no longer available with SPY, Qamar worked full-time as a taxi driver whilst attending college to obtain a NVQ Level 2 as a teaching assistant. He signed on with a teaching agency and did some work as a teaching assistant in a primary school before accepting placements in Pupil Referral Units. Qamar is now employed in a high school in Gorton which has many challenging behaviours. He works as a Learning and Behaviour Mentor and aspires to become a Pastoral Officer where he would receive in house training.
Qamar sees himself very much as a product of the "Grow Our Own" initiative. He feels strongly that he was "grown" by the Centre and says that if it had not been for Carl giving him the opportunity to volunteer and be trained, he would not be where he is today. This is the reason why he is back at the Centre, two nights per week, volunteering once more and helping to run the Martial Arts club which he helped to set up when he worked for SPY.
Qamar would be very concerned if the Centre were to close because of lack of funding. He considers there would be an increase in anti-social behaviour amongst young people in the area which would require a greater police presence. Therefore he values his current role in being able to keep children off the streets if only for 1 or 2 nights each week.
2. Kaleel
Kaleel is a Pakistani Muslim who is in his thirties and was born and brought up in the Holy Trinity area and has lived all of his life in the West End of Ashton. He was the youngest of 7 children (5 brothers and 1 sister) and went to Holy Trinity Primary school. Whilst there he was a friend of Daniel Lawrence, son of Father Charles Lawrence whose vision it was, 22 years ago, to reshape the church building to create a community facility as well as a worship area. Consequently Kaleel was a regular visitor to the vicarage.
When he was only 8 years of age, Kaleel began to help his mother care for his sick father until he died when Kaleel was 19 years of age. At the age of 16 years he began working part time in a day care centre for the elderly whilst continuing his studies and these experiences appear to have defined his future career. As a young carer Kaleel felt invisible, as if his voice wasn't heard and he was therefore drawn to becoming an advocate for vulnerable people in society. As Kaleel puts it, "I was born to care." Therefore after working in a care/nursing home and then being a live-in carer for adults with learning disabilities, Kaleel began a social work course and became a qualified and registered social worker specialising in mental health and subsequently working in Tameside, Rochdale, Bury and Bolton. He also has a number of degrees including an MA in Adult Safeguarding, Law, Policy and Practice. Kaleel is currently a Designated Adult Safeguarding Manager in Bolton whilst still undertaking locum mental health clinics for an Accident and Emergency Service called RAID which assesses people with mental health needs and "sign posts" them to relevant agencies locally.
Kaleel is a strong supporter of human rights and equality for all. He is passionate about tackling social inequalities whilst advocating for Women's Rights, Lesbian, Gay, Bisexual, Transgender/ Transsexual (LGBT) people and those from Black and Minority Ethnic (BME) communities.
With all his studies finally behind him, Kaleel has recently begun to think about how he could become more involved with his local community and an informal conversation with his sister in law made him realise the importance that Holy Trinity Community Centre has in community life with the aim of bringing together people from diverse backgrounds to promote equality and community cohesion. Kaleel learnt from his sister-in-law about the work being done to promote women in the area and of the BME Women's Group she attends in the Centre. He recognised that he could have a role in raising the profile of child and adult safeguarding in the area, addressing issues surrounding child and adult abuse and the radicalisation of vulnerable groups. His sister in law suggested the BME Women's Groups she attends would be a good starting point. After Kaleel had met with Carl Kelsall, the Community Development Worker it was agreed that this was an opportunity to empower women in the area to keep their their families safe which could, in turn, impact on keeping communities safe. Therefore Kaleel will shortly lead his first Safeguarding Training in the Centre as a highly trained and experienced volunteer.
Kaleel believes there is still a lot of work that needs to be done to bring local communities together from all different faiths and backgrounds to overcome hate and prejudice in addressing taboo subjects such as terrorism, Islamophobia, mental health, health inequalities, domestic abuse and issues surrounding the LGBT society. He welcomes the opportunity of being a part of this learning and educative process.
3. Sue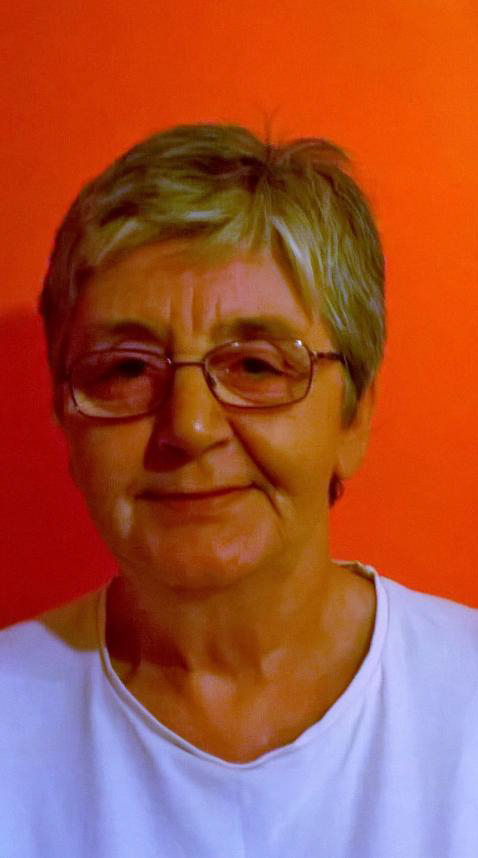 Sue is a 65 year old white British woman, widowed with three children, her younger daughter still living at home with her. Born and brought up in Manchester, Sue did office work on leaving school eventually becoming PA to the manager of the company she worked for. When the company went out of business, Sue took a job in a day training centre for Adults with Learning Difficulties in Blackley and loved it but when she became pregnant with her youngest child, she decided to take a career break as she had only taken maternity leave after the births of her other two children and felt she had missed out on too much of their early years.
In 1999, the family moved to live in Tameside and when her youngest child went into full time education, Sue decided on a career change and felt that she would like to get back into community work. She went on a course facilitated by Ashton Regeneration through TMBC and run by Carl Kelsall and obtained a certificate in Community Development Level 1. She then went to work for St Peter's Partnerships as a Community Champion, primarily concerned with single parents.
In about 2004 Sue went to work with Carl, her manager, at Cavendish Mill, where he facilitated a Skills Builder course set up through Tameside College, primarily aimed at women with young children, with crèche facilities available but open to all. The courses, lasting about 14 weeks offered basic qualifications in a range of subjects from IT to Customer Services and Sue had the satisfaction of seeing at least 5 of the women she had worked with obtaining employment. It was at Cavendish Mill that Sue met Hasna (Khan) and Shahida (Ditta) for the first time and she feels she learnt so much about different Asian cultures whilst there. Short term contracts working with "lone parents" and setting up courses funded through Neighbourhood Learning for Deprived Communities followed, many of them based in Holy Trinity Community Centre. Sue got St Ann's to run ESOL courses in the centre ("what goes round, comes round"!) and recognised the need for basic Maths courses to be offered.
In 2005, Sue decided to take her interest in community work a level higher and did the City and Guilds 7302 course delivered at Holy Trinity by Tameside College. This was a teaching qualification aimed at workers and volunteers working in the community and enabled Sue to deliver training in the community. But she missed working with people at "ground level" as she puts it and so took a job as a Community Development Worker with Oldham College based at the Honeywell centre, where she feels she could put into practice all she had learnt from her long involvement with St Peter's Partnerships, Ashton Regeneration and Holy Trinity Community Centre. When the funding for this post ran out, Sue was recalled to Oldham College to teach but hated it. She felt the work had became about "bums on seats" and was "target led" and that the people no longer mattered. She therefore retired in July 2011 aged 60 years.
A "community activist" at heart (Carl Kelsall's description of Sue!) and living in the Holy Trinity area, Sue is once more involved in the community as she is responsible for having set up with her friend Jenny Boff, the Neo-Natal Knitters' Group in the community centre. If the group were unable to meet at Holy Trinity it would have to disband because there is no other community facility in the area big enough to accommodate the group whilst offering storage facilities. Moreover, for Sue, it is the most welcoming centre she has ever been involved with and so friendly – important for Sue as the group is more than a knitting group. It is also a social group and meets the needs of some members with mental health issues and physical disabilities.
Sue acknowledges that she was not "grown" as a community worker out of Holy Trinity Community Centre but she would say that she has been "grown" by Carl who she sees as an inspirational, committed and passionate community worker and leader. When she first went into community work she was scared because she was older and didn't have the university qualifications that other community workers had. But because of her life experiences she had the compassion and empathy to help disadvantaged members of the community and it was Carl who gave her the skills and the confidence to help others "walk in my shoes" as she puts it. She describes the Grow our Own ideology as amazing – the idea of passing on learnt skills to others for them to learn for the benefit of the community – and all that it takes, in Sue's opinion, is "caring and understanding". Those two qualities are what make the difference in people's lives.
4. Church Wardens (Judith and Les)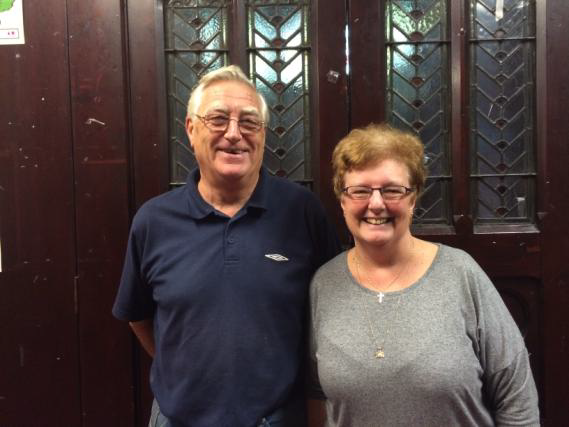 Judith is a 62 year old white British woman married to Brian with one son Mark. She currently works as the Diocesan secretary for the Mothers' Union in Manchester but is due to retire next year. Her family has a long association with Holy Trinity stretching back to the early 1900's when her great grandparents worshipped here, followed by her grandparents, parents, Judith herself and her son Mark – 5 generations in all! Judith was baptised, confirmed and married in the church and hopes the church will still be open so that her funeral service can be held here when the time comes! Judith recalls being admitted "on the choir" in about 1964/65 when a decision was finally taken that girls could be allowed to sing in the choir – as she says, "The church was very much men and boys led in those days." She has been a Sunday School teacher at Holy Trinity, Youth Leader, member of the PCC (Parochial Church Council), then the DCC (District Church Council), Secretary to the DCC and finally Church Warden. Holy Trinity has always been, and will continue to be, a very important part of Judith's life.
Les is a 68 year old white British man and married to Barbara. He has recently retired from his post as a regional Electrical Engineering Manager for a large company. Born and brought up in the Holy Trinity area, Les has been attending Holy Trinity from the age of 7 years. He joined the church choir aged 8 years and has been a server since he was 11 years old. Les was confirmed and married in Holy Trinity and, like Judith, hopes to be buried from the church. Les was one of the youngest Church Wardens in the Diocese when elected to the post aged 26/27 years and has moved in and out of the role ever since. He has served on the PCC, then the DCC, acted as Covenant Secretary, been Deputy Chair of the PCC and been a Youth Leader in the church. Les is a very talented and knowledgable DIY person and for many, many years has committed himself to maintaining the fabric of the building, wherever possible, saving the church £100's/£1000's over the years. Continuing this maintenance work at Holy Trinity is very much Les' retirement project!
Judith and Les recall how vibrant and active a church Holy Trinity once was, meeting the social needs of the congregation as well as their spiritual needs but designed to seat 800 people with no small meeting rooms, many of the activities took place in the school hall of Holy Trinity School, which was far from ideal. Therefore in the 1970's when the congregation had reduced to between 40-45 people, the PCC began to question how the church could be changed to become more "user-friendly" and various ideas were considered. When Father Charles Lawrence arrived at Holy Trinity in the early 1980's, however, he was originally resistant to change because he considered the building to be too beautiful to be altered. But as time moved on and more and more ethnic minority groups moved into the area, with those attending Holy Trinity Church continuing to fall, Father Charles had the vision of "reshaping" the church to create a two storey community facility to meet the needs of the rich and diverse cultures now occupying Holy Trinity parish, whilst at the same time retaining a significant worship area.
Father Charles shared his vision with the congregation in 1986 and whilst there was a general acknowledgement amongst church members that change was needed, there was also fear and and uncertainty about whether the community would come into the church because it is a Christian consecrated building and would there be respect for the building as such. For Judith, in particular, it was "a big leap of faith". However through prayer and involving the congregation at all stages of the planning process, including visiting other churches that had undergone similar "transformations", there was an acceptance amongst the congregation of Father Charles' and the PCC's plans. 1992 saw the completion of the first stage of the Reshape which was finally finished in 1998.
Judith and Les gave their support to what became Holy Trinity's mission – its "outreach" work with its primarily Muslim neighbours and were proud of the Diocese's recognition of Holy Trinity as a flagship church "building bridges" with its ethnically diverse neighbours. The community centre was used every day of the week for various groups and classes. Worship continued at Holy Trinity but by 2013 numbers attending church had fallen to a level where it was no longer possible to meet the demands of an active church. Judith and Les then had to make the devastating and heartbreaking decision to close the church but the Diocese, in recognition of the invaluable work being done out of the community centre, decided to suspend Sunday Eucharist but leave the church open. So now a small congregation of approximately 6 people together with up to 4 clergy meet each Thursday for Evening Prayer in the Lady Chapel, with Eucharist said once a month. The church continues to be used for team services and Holy Trinity Primary School has services in it at least 4 times per year attended by mostly Muslim parents. There have also been 3 baptisms and 1 funeral in church since 2013 and Les and Judith wish to point out that the church is still open for baptisms, weddings, blessings and funerals.
For Judith and Les, the most important thing for them is that the church remains open. (Judith's greatest fear is that it would become a carpet warehouse!) They are committed to the ongoing community use of the building and excited by the future plans for the building and community development should funding be made available. Judith also has sympathy for the women in the community remembering what it was like all those years ago to be excluded from the choir and other roles in the church because she was a woman. She is therefore whole heartedly behind the project to raise the profile of women in the area.
Judith and Les are justifiably proud of the fact that through the spiritual and financial generosity of Holy Trinity Church, Holy Trinity Community Centre exists in this deprived area of Ashton to serve the needs of our ethnically diverse neighbours. And as Les says, "The words 'Be ye doers of the word and not hearers only' – James 1:22 – were inscribed at the back of the church in 1878 and the notice boards currently outside church read,'Church and Community Working Together.'" They would like this partnership to continue for many years to come.
5. Adnan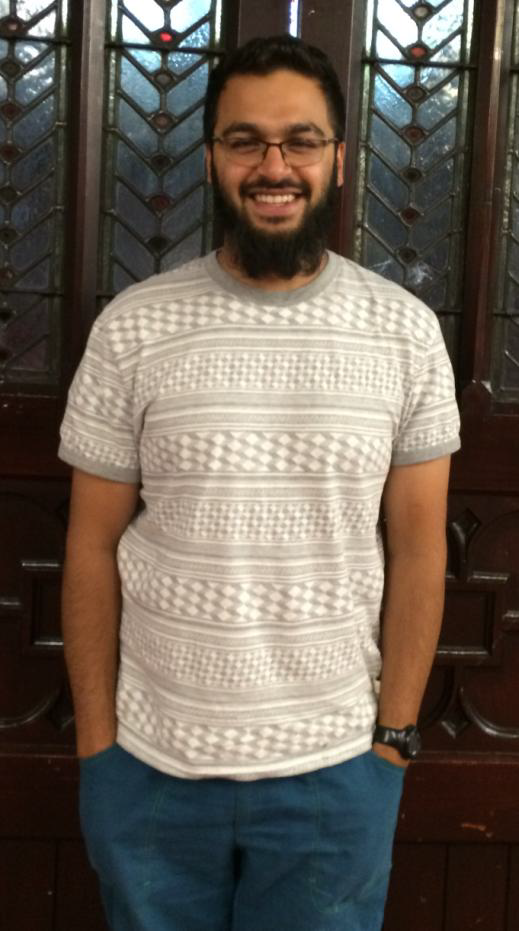 Adnan is a 30 year old Pakistani Muslim who was born and brought up in Ashton, one of six children. He is married to Firdaus and as their's was a love match of which some of Firdaus' family did not initially approve, they had to wait 5 years to receive their blessing. They have now been married for 3 years and live independently.
It seems to Adnan that he has always been involved with Holy Trinity Community Centre, initially attending family parties and weddings here and then involving himself in Centre activities from the age of 16 years. After GCSE's at school, Adnan attended Tameside College to study engineering but when he applied for an apprenticeship, his prospective employers sensed that Adnan's main ambition was to become a youth worker and so did not give him a job. In interview, he must have spoken with such passion about his leisure activities when he described spending every single spare moment of every single day at the Centre volunteering!
Early on in his involvement with SPY, Adnan showed an interest in outdoor activities and with SPY's encouragement he took a Sports Leadership Award which evolved into Level 1 qualifications in football, cricket and tennis. He then progressed to centre based youth work – drama, dance, art graffiti – taking his NVQ Levels 2 & 3 in youth work which he obtained at 19 years of age. He was then offered a full time post as a youth worker by SPY – the first ever local person to be offered such a position and something of which he is very proud.
Around this time SPY was working in close partnership with the Lindley Educational Trust to promote youth work and Adnan went to work for them aged 21 years because they had obtained Rank funding for training and Adnan was able to study for a degree in Youth Work through "distance learning" on a course accredited by Canterbury Christ Church College. He points out, however that all the evidence for his youth work was supplied by the SPY project. Adnan remains in full time employment with the Lindley Educational Trust but seconded to develop a youth project once more in Holy Trinity Community Centre, with Children in Need now funding his post.
He is keen to point out that the National Institute of Outdoor Learning seeks to demonstrate how best to engage with ethnic minority groups and cites the work that has been done out of Holy Trinity Community Centre as an example of good working practice.
Adnan believes that Holy Trinity Community Centre is seen as the central hub of the community. Those who have been a part of the Grow our Own initiative in the past have an emotional attachment to what has played a major influence in their lives. Adnan acknowledges that for him, it has given him skills, self esteem and confidence that he might not otherwise have had. He strongly believes that if the most deprived areas of the country can attract funding to train up the people who live in the community, then the skills they acquire will still be with the local people long after the funding has ceased. Adnan is one such person and his preferred venue for working is Holy Trinity Community Centre.
Adnan is currently managing the youth project in the Centre with two young people who represent for him, the new phase of "Grow our Own". He regrets that there was no youth provision in the Centre for a couple of years which means that the new recruits are playing "catch-up" all the time. And to those critics who question the wisdom of more funding being made available to resolve the problems of the West End, Adnan replies, "Rome wasn't built in a day"and it will take several generations to correct the cycle of deprivation. What is important to him is providing consistency for the young people in the area and engaging them when they are young.
6. Margaret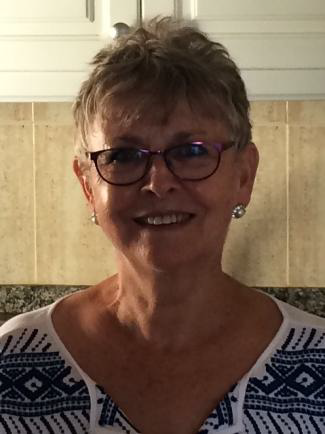 Margaret is a 71 years old white British woman married to Maurice with 3 children, 7 grandchildren & 1 great-grandchild. Prior to retiring, she was a social worker in Tameside for 22 years.
In 1990 Margaret's daughter and boyfriend who is Bangladeshi Muslim announced their intention to marry and as her boyfriend's family wanted them to have a Muslim wedding, Margaret asked that they have a Service of Blessing in church as well. At this point in time, Margaret had not attended church for about 10 years and so began to search for a church that would conduct a Service of Blessing between a Christian and a Muslim. A work colleague suggested that Fr Charles Lawrence at Holy Trinity might be prepared to do this as he is of mixed parentage, having an Irish Catholic mother and a Mauritian Christian father.
Prior to the Service of Blessing, which Fr Charles agreed to conduct, Margaret decided to attend a service at Holy Trinity and received such a warm welcome, that she stayed! As she puts it, "it felt as if I had come in out of the wilderness" and she particularly valued the fact that it was an Anglo Catholic church.
After attending the church for a while Margaret joined the Mothers' Union and was invited to sit on the P.C.C. which lead to Fr Charles asking her to be the church treasurer, a post she held for circa 20 years together with leading intercessions and reading in church. She has also made several grant applications for work being done in and out of the church – some of which have been successful and some haven't!
When in 2013 due to a fall in the number of people attending Holy Trinity, it was decided by the then DCC to suspend holding Sunday services, Margaret decided that due to the changing requirement of the treasurer's duties and the introduction of more computer generated accounts which she could not manage with her limited computer skills, it was time to resign from her post as treasurer. This was in December 2014 and was timed to coincide with the closure of the SPY project in Holy Trinity. Margaret was also, for many years, a governor at Holy Trinity C of E primary school.
Throughout her involvement with Holy Trinity, Margaret has felt passionate about the vision Fr Charles had about reshaping the church in order to provide a community facility for the use of the ethnic minority groups resident in this poor, deprived area of Ashton. As a social worker for Tameside, Margaret worked with Muslim families in the area and when she was managing the Temporary Fostering Team for the local authority, was privileged to have Rukhsana Ali (now Vice Chair of Khush Amdid) and her husband, as foster carers. Because of her work, Margaret was seen as a valuable asset to the church in helping some members of the congregation overcome their fears and prejudices by explaining the needs of the community and how these could best be met by inviting them into the newly reshaped church where the community could meet socially and attend classes and training sessions.
Following the decision of the DCC to suspend Sunday services and in agreement with the Diocese, it was decided that as the church and community centre provided such an important and unique provision in the community and is part of the church's mission, that the building should remain open. Following this decision Margaret joined the HTCCC management committee and as part of her continuing commitment to the work being done at Holy Trinity, volunteered to carry out the case studies in this document as part of the current bid for Big Lottery funding.
7. Safia
Safia is a Pakistani Muslim woman aged 31 years. She met her future husband Ruhule, a Bangladeshi Muslim, through the SPY project at Holy Trinity Community Centre and because of cultural differences and the long standing enmity between the two countries, their relationship did not initially have the approval of either family. However Safia's father, whom she describes as her friend as well as her Dad and who cannot stand injustice of any kind, gave the union his blessing when he realised the couple loved each other and that Ruhule would look after his beloved daughter. The couple married religiously in 2011 without some family members' blessings and a year later they had a civil ceremony with both immediate families coming together to be part of this happy occasion. Safia and Ruhule now have a daughter Jasmin, born in 2015 who at 2 weeks of age , fell ill and was hospitalised with a serious illness and is at risk of having long term health problems. With all that aside, Safia and Ruhule feel Jasmin is a blessing from Allah.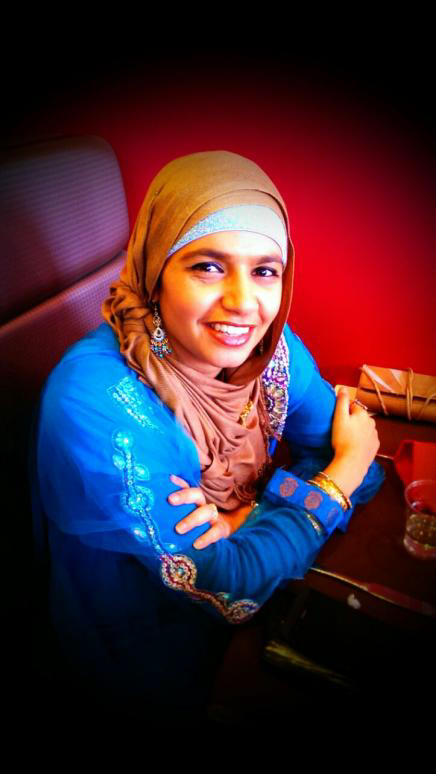 Born and brought up in the West End of Ashton, Safia is the third child in a family of 6 children. Very much a tomboy, Safia was always to be found playing cricket or football with her brothers as a young child but aged 11 years, like many other Asian Muslim girls, her participation in such activities was restricted so that she could learn how to cook and clean in preparation for her future life as a wife and mother, as is the norm in the Pakistani community. She was then sent to an all girls' comprehensive school, following in her older sister's footsteps and Safia feels this did not allow her to be the person she really was. On leaving high school, she became quite withdrawn, with low self esteem, so when she went to college to study Child Care and was around boys (other than family) for the first time, she felt scared and isolated herself from everybody. In her second year, she did not even bother going to college at all for much of the time. She then spent a further two years at Tameside College doing an IT and Business Foundation course where she met some female friends who encouraged her to keep attending. On leaving college Safia was having to search for jobs as she was under pressure from her family but as she was still not confident around the opposite sex, she was not successful in getting a job, which undermined her confidence even more. Her family thought she was lazy when in fact she was too scared and lacking in self esteem to join the "outside" world. She had been attending an all girls' youth club from the age of 13 years, becoming a volunteer at 17 years of age and obtaining the Duke of Edinburgh Bronze Award and this is when Safia realised that youth work was what she really enjoyed doing. A job opportunity with the Youth Service came up when she was 19 years of age. However her father was worried about her and did not feel it was right for a young Asian girl to be going out to work in the evenings. Safia did challenge this with her father and took the job but after only a month, resigned as she could not take the pressure from home any more – a further blow to her self confidence.
At 20 years of age, Safia was offered a job by her Uncle Ali at the FAST club in Holy Trinity Primary School (Families and Children Together) where she used to run extra curriculum activities at the school and not long afterwards she was offered a Midday Assistant position at the school. Through the FAST club Safia met the SPY team via her brother Adnan and she started to attend youth sessions at Holy Trinity Community Centre. Safia feels that this was the turning point in her life because it was Carl who saw the potential in her and offered her to volunteer with them as an assistant youth worker which she happily accepted. As time went on and with Carl and Adnan's support, Safia was finally able to grow and become the person she wanted to be. Her father was comforted by the fact that her brother was involved at SPY and allowed her to continue on her journey but as Safia says, "there were still hurdles to cross and making my father understand and accept this was not easy."
Through SPY she was able to indulge in all the outdoor activities she had ever wanted to do and the SPY leaders seeing the potential in Safia to be a future leader, enabled her to obtain a string of qualifications – the CWA (Climbing Wall Award) to teach indoor climbing, the BELA (Basic Expedition Leader Award) to take groups walking outdoors on flatlands, the MLA (Mountain Leader Award) to take groups on mountains and the SPA (Single Pitch Award) to take groups rock climbing outdoors which Safia never got to finish as she came to realise she has a fear of heights! With all these qualifications Safia was able to take a group of girls on The Three Peaks Challenge. Safia remained with SPY until its closure when funding finished because when she is passionate about something, she sticks with it.
Safia sees "Grow our Own" as the opportunity for local people to help their own people by planting them as a seed and watching them grow. Safia was grown by SPY into becoming the person she is today, confident and comfortable with life and having been shown a world she didn't know existed. As she puts it, "Grow our Own helped gain the real ME!" She grew in SPY from being a volunteer into a casual worker , then a trainee Youth Worker and ultimately a Co-ordinator managing several teams and more sessions with SPY.
Safia moved up the ladder in SPY during the 10 years she worked for them before it closed down. During those years she worked with young people in social care, with those having family problems and those lacking in interpersonal skills. She valued the point where young people began to trust her so much that they sought her out on a one-to-one basis to confide in her and seek her help. Through "Grow our Own" she has been able to help the young people of her own community and she now sees some of those young people personally and on Facebook who are volunteering abroad helping others or achieving their goals and aspirations by being in a job they want and thanking SPY for the motivation to do this. She hopes and prays that these same opportunities will be available to young people now growing up in the Holy Trinity area. According to Safia, it is youth work that can teach young people about life and "grow" them in a way that nobody else can – not home, school or employment – as youth work opens more opportunities and choices in life and helps in many more ways to "grow".