Throughout this evaluation many of the case studies provided could have been placed either under the SPY Project or under the later Holy Trinity Church and Community Centre Project. Each of the Case Studies has been placed where the greatest impact was felt. Where the studies have no specific attribution, they have been prepared through interviews by Margaret Stanley a member of the Management Committee of HTCC:
1. Mike
Mike is 59 years of age and White British. He and his long-term partner have lived in Tameside for the past 10 years with their 16 year old son. Although born in South Africa, he was brought up in Rotherham when his parents returned to the UK. Mike is dyslexic but this was not diagnosed until he started to work for SPY – something Mike still resents – and so leaving school with poor qualifications, he set himself up as a self taught, self-employed landscape gardener, a job he did for 33 years. At one point he participated in a scheme for young unemployed people, teaching them landscape and environmental construction both in the classroom and in the field and he hoped that it would lead to a teaching qualification but the project folded after only 14 months. Mike also worked as a psychiatric assistant on an acute admissions ward when work was scarce in the winter months.
Following the breakdown of his marriage and reconnecting with his current partner, Mike and Helen decided on a fresh start in life and via Liverpool, relocated to Tameside. He did some volunteering work at his son's school in their eco-garden, some work in another primary school in Tameside and at Sure Start, before going to work for St Peter's Partnerships as a Safeguarding Officer conducting fire risk assessments. It was through this work that he heard of the SPY project and started volunteering on the project, something he did for 4 years. His potential as a youth leader was soon spotted and Mike enrolled at Tameside College for both youth leader and community development courses. It was at college that Mike was found to be dyslexic but with "good teaching" (as he puts it), he was able to achieve NVQ Level 2 in Youth Work and Levels 2, and 3 in Community Development which led to employment by SPY as a part time youth leader.
When SPY funding finished, Mike says he lost his favourite job in his favourite place of work. He did get another job as a community organiser in St. Michael's Ward and received training as a community organiser working with a Bangladeshi Women's Group and a Gardening Group. But his heart belongs in Holy Trinity Church and Community Centre. Therefore when he saw the job of Caretaker at the Centre advertised, he went for it. Having been empowered by participating in the "Grow Our Own" initiative, he was attracted back to the Centre. As Mike says, "It's work, it's something to do and it keeps me connected to the community where I've worked in the past and there may be job prospects in the future." He loves the opportunity of interacting still with centre users .
Mike sees Holy Trinity Church and Community Centre as a valuable asset for the area even though in his opinion it is currently under-utilised. Without it the local community would suffer greatly because they would lose "a social welfare centre, an education centre, an entertainment centre and a good, safe place to be used by the community." It bothers him that it is under threat as it has been a big part of his life in this area.
2. Mariam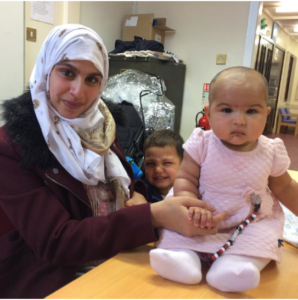 Now aged 26 years, Mariam is married with two children, Zakariyya aged 2½ years and Nailah aged 6 months. Mariam, a Pakistani Muslim, met Sajid, an Indian Muslim at Holy Trinity Church and Community Centre and they fell in love. Whilst religiously they were well matched, culturally there were many differences between them and so initially there was opposition to their union from both families. Mariam's family eventually gave their proposed marriage their blessing but it was some time before Sajid's family accepted their union. Once married the couple went to live with Sajid's family, as is customary in Indian Muslim culture and Mariam currently looks after her in-laws as well as her husband and two children. She lives in the Holy Trinity area.
Mariam was about 17 years old when she first got involved at the Centre and the SPY project, introduced by her brother Adnan. She spoke enthusiastically about the many opportunities that were on offer to her – going swimming, playing cricket, cookery classes, learning First Aid and learning about health and safety. She went away for 3 weeks without her parents (unheard of for a young Muslim girl) and went on her first ever plane when a group of young people from SPY went to Morocco. Valuing these different experiences, she volunteered, "here, there and everywhere" and was delighted to be selected to do her NVQ Level 2 in Youth Work (part time) at Tameside College and then her Level 3 at Manchester College.
At the same time, she was a full time student at Tameside College studying Child Care and then Health and Social Care. All these educational experiences enabled Mariam, with another worker, to run a Kids Club for about 20 primary school children on a Saturday morning and she was an active and vocal member of the Youth Forum. When her full time college course ended, Mariam became a lunchtime supervisor at Holy Trinity Primary School and went on the supply list to step in as a teaching assistant when the need arose. Following her marriage and the birth of her son, Mariam became a full time Mum.
Mariam greatly values the time she spent with SPY, considering it "grew" her as a person, giving her confidence and enabling her to engage in experiences which normally would not have been open to her as a Muslim woman. It felt good for her to give a voice to the children in her Kids Club and she feels she was given the opportunity to be a better person.
She has been empowered to believe that anything is possible and that you can change the things around you if you work at changing yourself first.
She now attends the Women's Group at the Centre with her children and is pleased to be part of a project that is enabling women to be themselves and not just someone's wife, mother, daughter, or daughter-in-law.
Enlightened by her life experiences to date, Mariam now believes there is more to life than the cultural norm of cooking, cleaning and staying at home all day. Once her children are in full time school (and she only wants the two she has), Mariam wants to be in paid employment using the qualifications and experiences she acquired whilst being a part of the SPY project and putting something back into the community.
3. Firdaus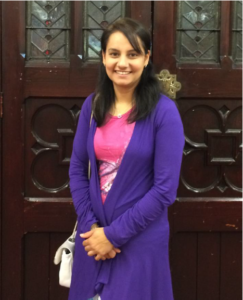 Firdaus is a 30 year old Pakistani Muslim who was born in Pakistan (her parents were on holiday there at the time) but who was brought up in the Holy Trinity area, the second youngest in a family of six children. She became friends with her future husband (Adnan Zaman) through the FAST club (Friends and School Together) at Holy Trinity Primary School and their friendship gradually turned to love when both worked on the SPY project in Holy Trinity Community Centre. But as their proposed marriage had not been arranged by their prospective families, difficulties ensued and it was to be 5 years before their union received their families' blessing. They married in 2012 and live independently.
When Firdaus left high school she went into Holy Trinity Primary School to do some volunteering in the classroom and when a classroom assistant handed in her notice because she was getting married, the headteacher offered Firdaus the job at only 16 years of age. Firdaus attended evening classes to obtain NVQ levels 2 and 3 as a teaching assistant but changed jobs within the school to become a bilingual assistant when her older sister left and the job became vacant. To improve her skills in this job , Firdaus took an "A" level in Urdu but when there was a pay regrading and the role of bilingual assistant became redundant, Firdaus returned to her job as a teaching assistant. She has been at Holy Trinity now for 14 years.
Holy Trinity Primary School has always had very close links with Holy Trinity Community Centre and Firdaus used to help run holiday clubs with pupils from the school who attended the FAST club and children from the SPY project. This is how she became aware of the SPY project but when first asked to do some casual work on the project, Firdaus preferred to be a volunteer for a year or two whilst she familiarised herself with it. She then progressed to being a casual worker and took a Basic Expedition Leader Award which qualified her to take groups outdoors for outdoor education (staying safe whilst walking outdoors/up hills, map reading, station to station walks and camping. She also did a Climbing Wall Award, an NVQ Level 3 in Youth Work and a Diploma in Youth Work. After she had done a Dance to Music course, Firdaus ran an aerobics class with SPY and also a "Wake Up and Shake Up" session in school.
Firdaus considers her working for SPY taught her a lot about herself and made her a stronger and more confident person (she is naturally shy). She valued the opportunity to become acquainted with all that is on offer outdoors and because she so much enjoys it she has valued the opportunity of enabling children to become healthier and more active. She recognises that she was a product of the "Grow our Own" initiative and values the opportunities that were opened up for her once she had qualified. Similarly she is aware of the ABCD methodology associated with the current bid and having once run a Women's Group with her sister from the Centre, Firdaus feels strongly that such a group needs to be back in the Centre, permanently, for the women's sake. She feels they need some time for themselves to take them out of the "cook/clean/serve"cycle which is the traditional role of so many women in the area. She stated that the Mosque engages speakers to inform the community of what is on offer "out there" and questioned whether the same could not be done for the women in the community. Once enlightened, they would perhaps be enabled to become more active members of the community and pass on their knowledge to other women. In Firdaus' opinion, it is the people in a community who can make the difference to other members of the community.
4. Ammer
I am now 31 years old, married and father of 3 kids. I currently live in the St Peter's Ward in Ashton-Under-Lyne.
I started on the 'Grow Our Own' initiative with SPY as Volunteer. As a young person studying at college, I took the opportunity and signed on as a volunteer. Little did I know that it would change my life for the better!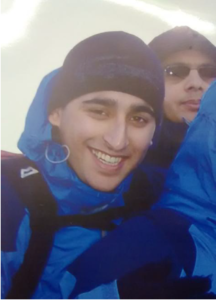 Before starting with SPY, the streets of St Peter's were bad and as young people we used to engage in activities to waste time, as they used to say back then. This could have been standing around on the street corners, causing a nuisance in the neighbourhood, fighting, annoying people in the community etc. I remember at the time there was a lot of crime and drug-dealing in the area as well. But volunteering with SPY got me engaged in positive activities and kept me away from spending time on the streets of the St Peter's Ward. SPY provided me with opportunities to train and develop. This led me to become a casual worker and to progress even further.
Firstly, with SPY, I volunteered and worked on various projects including Martial Arts Project, Youth Forum, Multi Sports Projects, Outdoor Pursuits Project (climbing, hiking, camping and various activities in the outdoors). I worked as a Youth Worker on all of these projects by supporting and taking lead on sessions.
Through the above projects I have become very confident, a good team player, developed leadership qualities that I never knew that I had. I gained qualifications in Climbing, Basic Expedition Leadership Award, Level 2 in Community Sports Leaders Award, Level 2 & 3 in Youth Work, Level 3 in Community Development, Level 2 in Cricket coaching, Prepare to teach in the long life learning sector (PTLLS), Food safety, Safeguarding Young People and On the Job training.
Secondly, due to the experience and qualifications I gained at SPY I started to apply for money to set up projects for young people. With the help and support of Carl at SPY I was able to secure money for another community project that was very successful.
I also secured a job as a Community Development worker with all the experience I gained with SPY and went on to work for two registered charities in Tameside. Working with the two charities I got to use all my skills that I gained through SPY. I developed projects for older people in the community and secured over £100,000 per year for the charities.
'Grow Our Own' changed my life by providing me with opportunities to grow and develop from a young person to the person I am today. I am currently working for the MiNTed project which is a Financial Capability Project helping social housing tenants manage their finances. It is managed by Tameside CAB.
'Grow Our Own' has helped me become more confident, become part of a team, developed leadership qualities in me and has raised my self-esteem. The model works and it has worked fantastically in my life.
New projects need to be formed on the basis of 'Grow Our Own' for all people in society so that they can to develop the skills and confidence to move on in life.
5. Waqas
My name is Waqas and I am currently a Financial Capability Worker for Citizens Advice Tameside. I am married and have one daughter.
I started as volunteer with SPY in 2007 as I wanted to get involved in my local community to make it a positive place to live. Throughout the years my confidence grew and I became more confident in my abilities to influence the decision making processes in my local community. I qualified as NVQ Level 3 in Community Development.
Volunteering made me a passionate believer that the people who can make changes in the local community are the people living there themselves. The
project helped raise aspirations of young people in the area as we provided them with better experiences than what I grew up with.
SPY raised aspirations of people in the community and gave them the opportunity to get themselves out of the cycle of deprivation that they were in.
I believe that the 'Grow Our Own' has worked and you can see that in our community at the moment. You have youth workers like myself, who are still active in the community and delivering sessions. If an outside agency was delivering sessions instead, they would have packed up and gone and the community would have gone back to being less integrated and more divisive.
I believe that if I did not get involved through the Grow Our Own model, I would not be working where I am currently and that is why I am very passionate about helping people who are less fortunate than me and I will always do so because of opportunities I have been given.
6. Shahida
Shahida is a 32 year old Pakistani Muslim who was born and brought up in the area, one of six children. She describes herself as a "champion for women's equality" and never thought that she would marry but in 2009, on a trip to Pakistan, she allowed her mother to introduce her to a man and agreed to marry him. She is now happily married with two small boys – Haris aged 4 years and Ammar aged 13 months.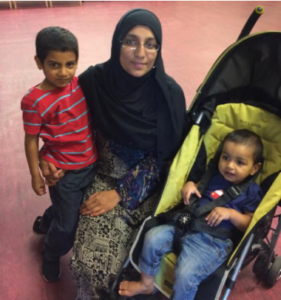 When Shahida was only 12 years of age, her father died and she went to an Islamic Girls' Boarding School in Bradford. Bullied in the first two years for being so thin, Shahida learnt to "hide" inside her traditional dress. ( However now as an adult, she is a confident person with a good sense of self.) At school Shahida learnt the difference between religion and culture. Islam does not discriminate against women whereas Pakistani culture does and this impacted on Shahida and she resolved always to remain open minded on cultural issues.
After GCSE's and 'A' levels in Arabic and Urdu, Shahida did some teaching and office work in her school before returning home at 19 years of age. She was lacking in confidence and struggling to find her way in life. She did a "Skills Builder" course at Cavendish Mill and found an aptitude for computers, acquiring the European Computer Driving Licence and found some part time paid work on a Community Champions Initiative doing outreach work. This lasted a year.
It was about this time that Shahida started volunteering for SPY in the youth clubs and this led to her gaining awards in mountaineering and map reading. She also particularly enjoyed the Neuro Linguistic Programming Course. It seemed to Shahida that everyone in the local community was involved with SPY in some capacity, at this stage. The "Grow our Own" project gave so many people so many varied experiences, she points out, and these often led them to them obtaining paid employment. For Shahida, there was a short term contract working on reception at Sure Start, followed by an unhappy time working in a call centre, before she was asked by the head teacher at Holy Trinity School to go to work in the school office because an Urdu speaking, computer literate worker was required. Shahida has remained in this post to date.
Whilst working and once married, Shahida continued volunteering at SPY as well as teaching the children Islamic studies at the Madrassa. She has always valued the "open -door" policy of the Centre and the way it is seen as being at the hub of the community. She says it is where we (the volunteers) "grew" in terms of confidence, skills and personal development. As doors were opened for them, it was SPY who gave them the confidence to step through those doors. The effort put in at SPY in terms of "Grow our Own" is what comes round to benefit the community in the long run and says Shahia, you get to see people in the community benefiting from your efforts – "you get to bake your cake and eat it"! She sees Carl as an inspirational person who in turn inspires you to inspire others.
Shahida has just returned to work after a second period of maternity leave. Although her husband is from a very traditional family, he has accepted her need to work and to"do her bit" for her community. They have trust and confidence in each other. Shahida is also very vocal about women's rights in her community and feels that without the Centre, things would slip back into a traditional, cultural way of life, with women having to do what their husbands say and men abusing their power and status. Shahida was told by her mother that women are supposed to be seen and not heard. Shahida never accepted this and says, "I have a right to be heard."