Holy Trinity Church and Community Centre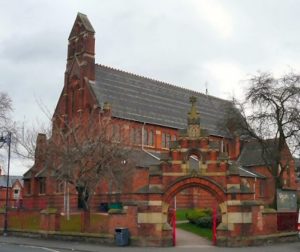 Holy Trinity Church was consecrated in 1878 and is a grade II listed building. It is in the Parish of the Good Shepherd, Ashton under Lyne and is in the political ward of St Peter's. The area around the church is locally referred to as Holy Trinity and is mainly a black and ethnic minorities' community with 48% Pakistani, 35% Bangladeshi ,13% white British with other small minorities representing 4%. The community is very fluid and subject to change given the high proportion of private rented sector housing and relatively cheap rented housing.
Given the Ward profile and poverty within the area, the Church committed to a social justice and more holistic needs led approach to meeting the needs of the community, when 22 years ago with thanks to the vision of Father Charles Lawrence and the courage of the church wardens and church members, the Church was reordered to create a community centre and worship area. The community centre accounts for approximately 50% of the building.
The work to create the Community Centre was carried out in three phases. Phase one & two, creating the worship area and ground floor of the community centre was completed in 1992. When Father Charles left Holy Trinity in 1994 and Father David Wiseman was appointed, he carried on the work started by Father Charles by completing the third phase of the project and adding the first floor area of the community centre after obtaining a lottery grant of £50,000.
The church wardens were actively involved in this reshaping and are still involved to the present day. This allows the church to have a substantial local presence and it was the main base for St Peter's Youth (SPY).

100's of people per week continue to enjoy the services of the Community Centre including, ESOL classes (English for Speakers of Other Languages), luncheon clubs, educational and vocational classes, youth clubs and martial arts classes as well as being an important venue for cultural celebrations and events. It is a centre for cohesion in every sense, and a powerful symbol of Christian values.